Branding
The Vera Project
Rebrand of The Vera Project
Timeframe:
January-March 2020
Collaborated with:
Kayli Putaportiwon, Martin Lindberg, and Adam Smith (on research, tonal territory, and mission, promise and positioning statements.)
Roles:
Branding
Layout Design
Graphic Designer
Skills:
Adobe Illustrator
Adobe Photoshop
Adobe InDesign
Procreate
Research
Typography
Problem

As the most visible all-ages venue (and workshop space) in the Seattle Area, The Vera Project has been a fantastic community asset for Seattle's youth for nearly 20 years, but over the years has lacked a cohesive brand identity. While starting out small enough that its scrappiness and hole-in-the-wall location was enough to define it. After Vera moved to a much larger facility, gained a larger staff, range of services, and outreach, its identity has taken on many forms, at once, and has become varied enough that it creates a bit of confusion to the services it provides, and to who the intended audience is (is it just for kids? For adults now?)


Design for new landing page on desktop
Background
This was a 12-week project to create a new brand identity for an existing establishment. While we've had lots of smaller assignments with some sort of brand creation, this was our first time being able to go through the whole process of discovering what a brand is and how to create a working brand identity. The biggest constraint for this was as always, time, with only the first couple weeks to research Vera (confession–all of us who chose Vera to rebrand started researching a little bit early), the largest period of time (nearly a month) was to create the identity, leaving only the last month to build out everything.

Objectives
The end product was to create a physical brand book (unfortunately, we could not actually print it because of obvious reasons) that showed the rebranding. However, that was a small aspect of the whole project which was:
Research the services, history, and audience of Vera
Create a brand identity–Purpose, Mission, Promise, and Concept
Build a set of brand standards and guidelines
Create a logo/wordmark
Build out assets and applications for the new identity
Create examples of collateral that would be used
Example of a print ad (quarter page for The Stranger)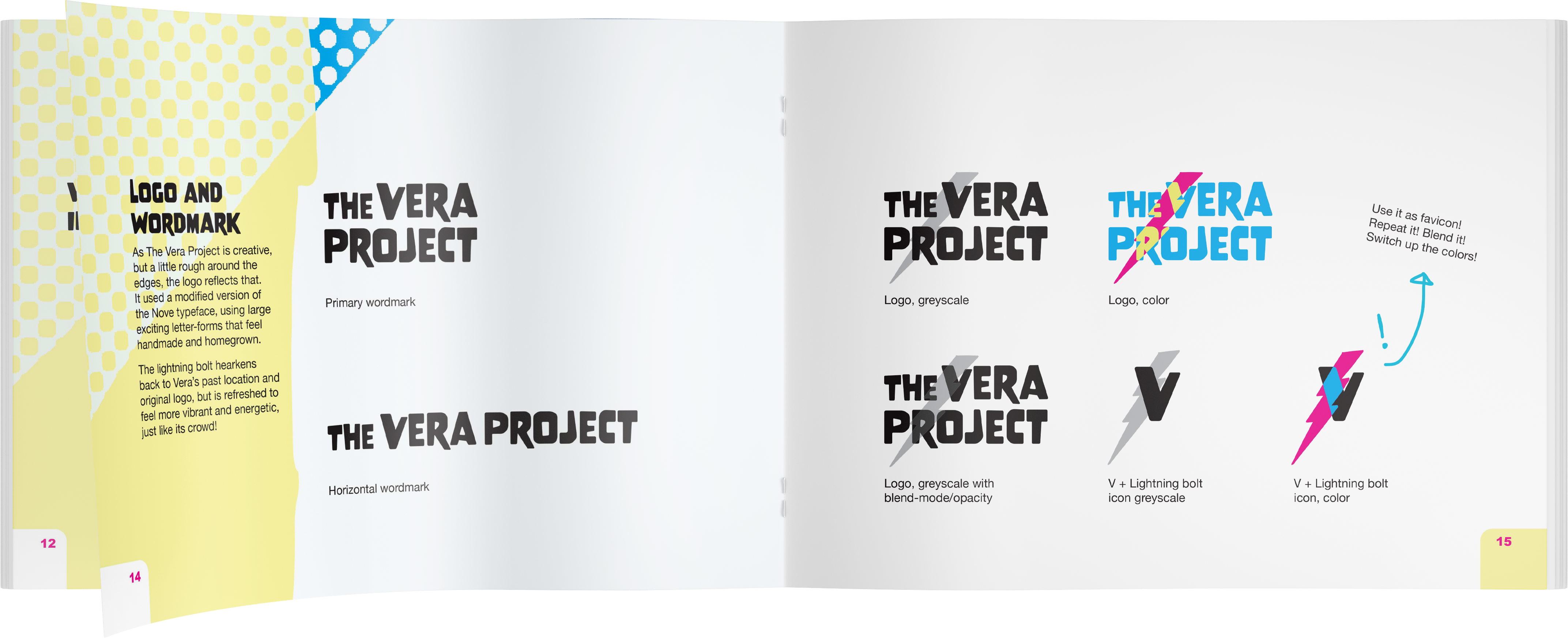 Process

Researched the history, audience, services provided, and culture of The Vera Project.
We interviewed the operations manager and learned a bit about the current situation of Vera. They had actually recently gone under a rebranding, which was largely just a new logo (which ditched the lightning bolt), yet they were still very attached to it a symbol for Vera, and continued to use the old logo frequently because of it. They were also trying to communicate that Vera isn't just for kids, it's open to everyone, and they would love the participation (and revenue/donations) from older folks as well.
As a small group we took our research about Vera's purpose and values, and formulated brand characteristics, tonal territory. We then found a brand approach and promise to create our individual concept boards to create our own identities for Vera.
Whiteboard sessions finding tonal territories, approach, and promise.
Solution

The characteristics we found of Vera are Creative, Empowering, and Inclusive.
It is an outlet for the musical and artistic creativity of Seattle's youth, empowers them to grow as individuals with confidence, and works to include all, no matter their background, race, gender, religion, class, or ableness.

The overall concept was "Amplify your DIY," with advertising and overall messaging promoting Vera as a platform to elevate one's creativity, self-fulfillment, and self-actualization. This also lead to the most controversial decision I made: the color palette, which was almost, CMYK, utilizing the lightest Pantone shade of yellow available to make a distinction. This was to emphasize that just like CMYK, Vera provides the components to build something larger, more creative, and different.

Many elements in the brand guidelines are based on screen-printing; Vera is one of the only places in the Seattle area that provides both lessons and a public studio for both the youth and adults to print. Additionally, the focus on messaging was placed on Vera's DIY ethic.

The logo I built is both fun and also highly legible, repurposing the lightning bolt of their original logo, in a stronger, bolder approach. It is primarily type based, and in its preffered color version, shows the overlapping and blend that represents both Vera's offerings and its participants.

For examples of how it would be used in application, I went into multiple streams. A website redesign that is more engaging and modern (it has largely been the same site since I was in high school, circa 2002). Redesigned exterior that replaces the sold grey concrete that it largely unmarked. We were told by the operations manager, that a common issue is folks walking past the building and heading to the more visible neighbor: KEXP. I chose a vivid mural insprired exterior to capture the energy that is happening on the inside.

I built a quarter page newspaper ad, as print is still alive for now, and Seattle's newspaper The Stranger has long been a resource for folks to discover upcoming shows and workshops. It emphasized the classes, as the past advertisements had largely been focused on just shows, or as a general announcement that Vera still existed. This again was to add a little bit of life into the brand, and get folks excited.

Exterior Design

Lastly, I built up a bit of collateral, stickers, buttons, shirts, aprons, etc. A lot of folks who go to and had begun their musical/artistic journeys at Vera have a LOT of pride in that, and are eager to show it. It also doubles as an investment oppurtunity, as it can be used for fundraising, and general awareness. I could make tons of these, and this is an example of a couple that adhere more strictly to the brand guidelines.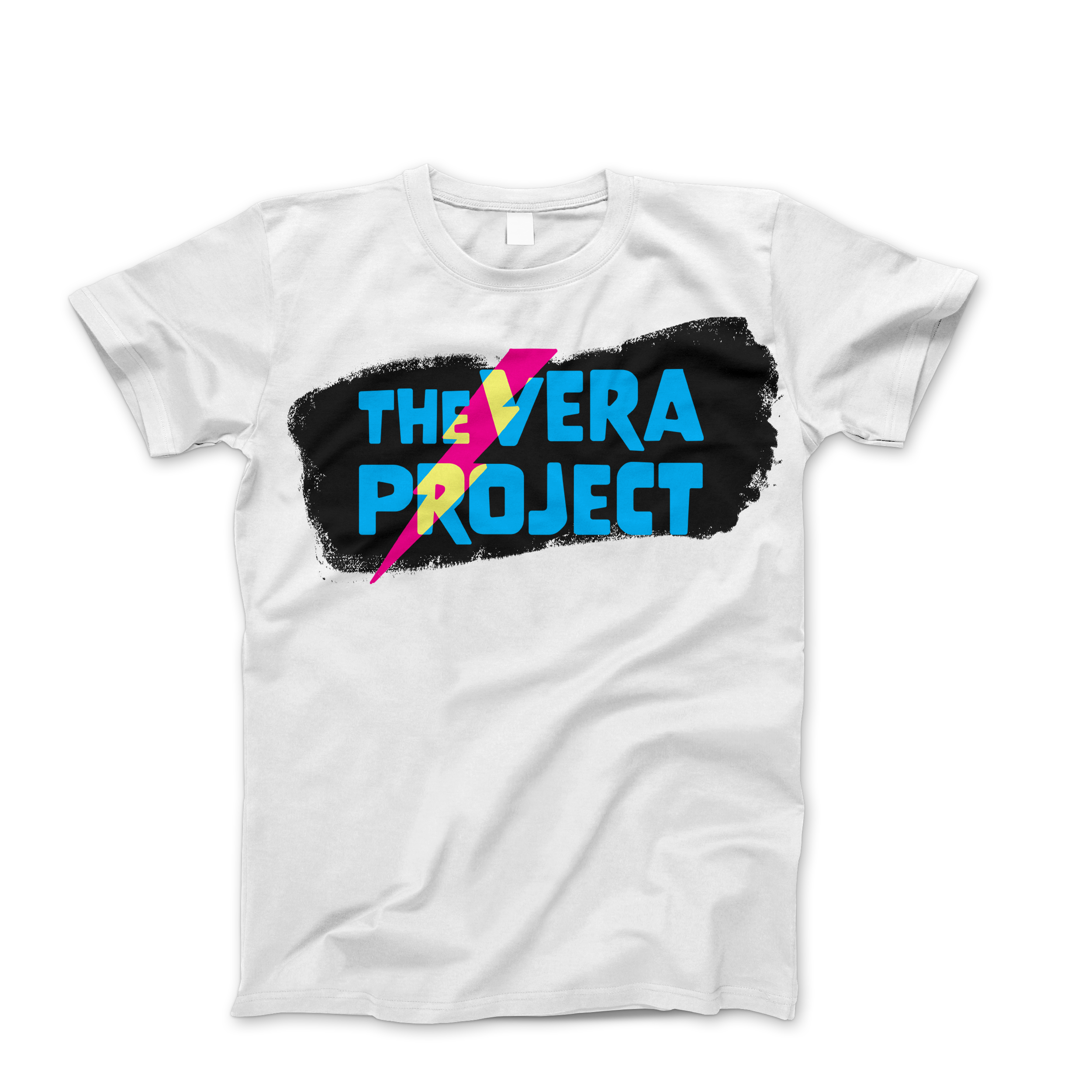 Couple of T-shirts
How to apply the photo treatment.
Classes page (for screenprinting and audio engineering)
Reflection

When reviewed, all components in the
guide were described as looking like what The Vera Project intends to project. The guidebook itself is extremely comprehensive and shows a full range of the tools and usage of how the brand is used.
This project was a total roller coaster of emotions but overall was incredibly rewarding.