Illustration/Typography
BIG PIG

Poster (Series?)
Timeframe:
February 2020
Solo Project
Roles:
Skills:
Procreate
Adobe InDesign
Creative Thinking
Time management
Screen Printing
BIG PIG in all of it's mock-up glory!
Problem

Craigslist has a very ugly UI, what if it made of 18"x24" posters instead of an online interface?


Background

The initial purpose was to create a type-only poster out of a random craigslist item,in this case a very large piggy bank (it was really creepy too). We had to keep all of the copy except for one text/block or sentence. Then to make a poster with a structure and can have illustrative elements. The third was a free-for-all.
Fun fact: this disappeared off of Craigslist before the week was over, could someone have actually purchased it?!
Editions 2 and 3, allowing imagery.
Objective

Create a compelling poster to sell a BIG piggy bank to its intended audience (in theory this would be probably rural grandparents who want their grandkids to grow up fically educated), and then do it again. And one more time! AGAIN! Realistically though, it was to work on brainstorming, creative thinking and typography.

Process

Began with researching what the Big Pig is. Then I picked a color palette based off of a pink that really spoke "piggy bank" to me. I looked up examples of all-type posters for inspiration. Sketched out different iterations. Other than the pink color choice this actually turned out into a disaster.
I was really a at loss.
This whole process of despair and failure repeated itself on the next rendition of the poster, in which we were to add in imagery.

These were a couple iterations I made that made me want to cry
.
A really creepy and awful iteration of the 2nd version (allowing imagery-that is the actual, real life, meat-space piggy bank! FREAKY.)
Solution

Honestly, this project was completed out of desperation. I had an imperial ton of time playing around with different layouts and color patterns. And I just couldn't find something that really said "Big Pig." I had to kind of break my mind from thinking of it being a rational purchase, and just embrace the insanity of the comically large piggy bank and just drew out the text as big as possible and squeezed all the body copy inside the name (like money squeezed in a bank?) I printed out the poster with minutes to spare before the school closed.

Fresh off the ol' screen print rig. She's a big poster, she's about 25" tall and about 18" wide.
Reflections

I put up the poster and kind of hid my face out of embarrassment, as I spent hours researching, sketching, iterating, and then in a crunch getting really weird and just cranking something out. The reception was a lot better than I expected. I have now screen-printed the poster in full-size (18"x25"–about the same size as the pig itself) and have been selling the prints.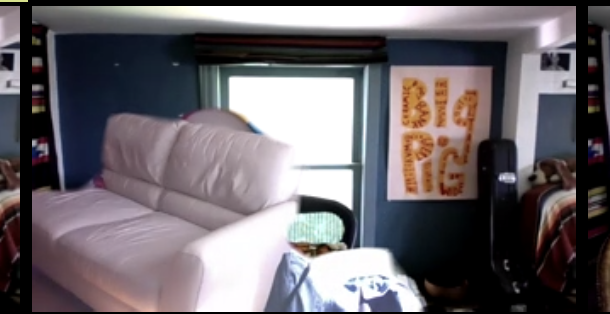 Hey look, it's in Zoom! (not my room, sorry)